Submitted by

keith

on Wed, 03/23/2022 - 10:40
In today's digital age, there's never been a better time to start your own custom sticker business. If you yearn to sell your own artwork and designs, a multitude of DIY platforms exist to help you fulfill the dream like Etsy and Shopify, or  even more robust website tools like WIX or Squarespace.
Don't get too far ahead of yourself, though.
To get you started on your business journey, Diecutstickers.com is here to help. Gathered from years of working with fledgling creators and entreprenuers, here are some key questions, tips, tricks, and must-knows that you can use to take the first steps toward launching your own custom sticker business.
Who Is Your Audience?
Before you get hyper-focused your sticker designs, it's important to first think about who you want to sell your stickers to. In other words, you need to get to know your target market and create stickers designed to meet their needs and interests.
Consider starting small with a narrow audience and then depending on engagement and audience reaction, expand your reach accordingly. A good place to start is by looking at others working in a similiar space.
Competitor Analysis
Let's be real; there are a ton of businesses out there, big and small, that sell stickers. Just type "stickers" in the Etsy toolbar, and you'll find millions of results that& pop up.
A few keys to overcoming this:
    - Who are your competitors? (e.g., their branding, values, mission, etc.)
    - What are they doing? (e.g., the types of stickers they sell, the designs they use, the way they promote their products, etc.)
    - What are they missing? (e.g., maybe they aren't doing funny/comedic stickers or don't offer Holographic Stickers or Sticker Sheets, etc.)
These areas can give you direction on how to make your sticker business unique enough to stand out from the pack. It will take some time and plenty of experimenting before you find a niche that aligns perfectly with your brand. This is part pf the journey, so be patient.
What Kind of Stickers Do You Want to Sell?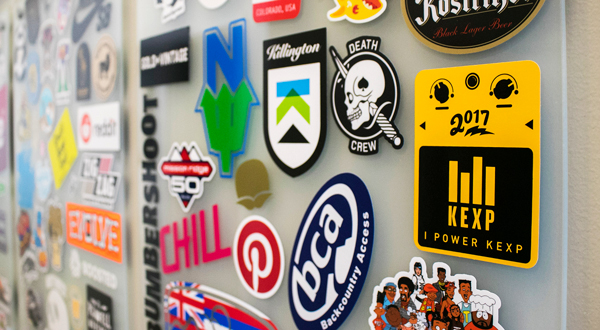 Now comes the fun part. Once you have a good idea of who and what you're up against, it's time to tap into your creative juices.
Depending on the type of branding and products you want to provide, there are many sticker options. Below are the nine main types of stickers to consider. Keep in mind, Diecutstickers.com's services include all of these, so if you're looking to outsource your cutting and printing, we've got you covered.
What Are the Costs Involved in Starting a Sticker Business?
Starting a DIY sticker business requires understanding the costs that go into it. Here are nine areas you'll likely need to invest in.
Drawing tools: If you're looking to create your own designs, you should have access to tools like a Wacom Intuos Drawing Tablet or iPad Pro and Apple Pencil. These items range from $80 to $1,230 each.

Design software: Software apps like Canva offer free plans where you can draw and design your own illustrations. But if you decide to go with the big guys like Adobe, you can spend up to roughly $54 a month for their full package.

Sticker paper: There are various types of sticker paper out there like matte, glossy, and vinyl. Due to their high quality (we're talking waterproof and UV-protectant), vinyl sticker paper is generally the most expensive. This can range from $10 - $80, depending on the number of sheets you buy.

Printer: There are two types of printers—inkjet and laser. Laser printers tend to have faster print speed (beneficial if you've got a growing business or mid-sized office) than their counterpart. Laser printers can go from $100 - $800.

Cutting tools: Depending on the level of your production you have three cutting options: decal scissors, exacto knives, and automatic cutting machines. You're looking anywhere from $17 - $500.

Online store fees: Sites like Etsy require business owners to pay $0.20 for every listing. eCommerce services like Shopify require monthly fees that start at $29.

Packaging and shipping fees: Depending on where your customer lives, packaging and shipping fees can be costly. You might need to limit your shipping to specific geographic locations or include shipping fees in your product price. According to USPS, prices for shipping fees can go roughly from $1.91 - $26.60.

Business registration fees: Registration depends on the status of your business. For example, if you're a one-person business that operates as a sole proprietorship, you aren't generally required to register. Registration rules and regulations do vary across states, so be sure to check if your state requires any specific licenses.

P.O. box: If you don't want to use your home address as part of your business info, you can sign up for a P.O. box. You can either sign up for one with the U.S. Postal Service or with a private service like UPS. Prices depend on the PO box size, but they typically start at $10 to $30 a month.
For all the details on the equipment and workflow processes involved on the production side, read how to make stickers to sell.
Should You Buy Equipment or Find a Vendor?
If you're feeling pretty confident about the costs and production scope involved, awesome! If you're scratching your head, no worries. Rest assured, you have plenty of options to partner with a print vendor.
For example, if you're an artist who wants to take ownership of the design side, you can invest in the necessary design and creation tools. Then, you can partner up with a printer vendor like Diecutstickers.com to produce custom stickers and bring your artwork to life.
Partnering with us will grant you access to easy-to-use design templates, our team of friendly where you can preview the look of your finished sticker product. Don't see the shape you want on the template page? No problem. We have a rich menu of insanely custom stickers where one of our account representatives will personally work with you to accommodate your needs.
Where Will You Market Your Sticker Business?
There are a lot of online platforms independent business owners use to market their stickers.  And to help you make the right choice, we've laid out the pros and cons of each below.
Etsy
The Pros:
Etsy can be a great place to kick start your sticker business: It's free to sign up, user-friendly, and gives you access to an existing customer base looking for products like yours.
The Cons:
Housing your store on Etsy entails fees like:
Listing fees: $0.20 per product listing

Commission and payment processing fees: 5% transaction fee and 3% +$0.25 processing fee

Potential offsite ads fee: If you make a sale through one of Etsy's ads, you're charged a 15% fee for that order.
Shopify
The Pros:
Shopify is a user-friendly eCommerce platform. Here's why people love it:
Involves simple and centralized interface that works efficiently even for less tech-savvy people

Has the flexibility to grow with your business

Inbuilt payment services so you don't have to connect a third-party payment provider

Useful plugin apps that can help you with accounting, customer service, inventory, shipping, SEO, marketing automation, and more

Access to competitive shipping rates and the ability to print out shipping labels from the platform
The Cons:
Here are some of the most common disadvantages people have reported on Shopify:
Doesn't have many free template themes to choose from. So if design is essential to you, you might need to pay extra for access to more templates.

There is a monthly fee to use Shopify. Rates start at $29 a month.

Most of the plugin apps come with a fee. Otherwise, you'll need to insert the right software data on your own.
Personal Website
The Pros:
Selling your stickers on a personal website can help you take full ownership of your business by:
Owning the site's code and design, which can help you establish a highly unique brand (This might also help you stand out more than on an oversaturated platform like Etsy)

Avoiding the listing and ad expenses online marketplaces charge
The Cons:
But of course, with great power comes great responsibility. Creating a website from scratch requires:
Design and web development skills - If you're not well-versed, this can be a pretty large learning curve.

Digital marketing strategies - to really bolster your site's visibility on the web, you might need to employ online marketing tactics, like SEO (search engine optimization). The breadth of your online strategy depends on your goal, but it might be well worth pursuing if you're hoping to grow your business in the long run.
Customize Your Stickers with DCS
With a high level of customization and A+ customer support, Diecutstickers.com is ready to take on some of the heavy lifting that comes with managing your own sticker business. Our team proudly offers high-quality stickers that are ideal for promoting your business or added value items for retail sale.